It was Sunday, January 23, 1977. There was still snow on the ground from a few days earlier. So much snow in fact, that we almost had to postpone everything. Roads finally cleared and the sun began to shine. It was a beautiful day for a wedding.

I slept in while the rest of my family left for church.




I remember pulling the covers up over my face and snuggling into my pillow, smiling to myself. This was the day I had waited for. This was it.

Realizing I was way too excited to sleep, I decided to grab my robe and take a little time strolling through our wedding gifts. My Mama, bless her heart, had all our wedding gifts beautifully displayed throughout the downstairs den atop white tablecloths.




Each gift was marked with a place card as to it's description and the giver's name. The room was completely full of wedding gifts. I remember thinking how loved I felt and how very thankful I was to all my friends and family.

After a light breakfast, I showered and hot curled my hair. The family was coming in from having eaten out after church and the hustle and bustle of the day was beginning. My sister, Pam, and her family (Jim, and the girls) were there as well as my youngest brother, Micah. Pete, my other brother was in the military in North Dakota and was unable to be there, and I missed him terribly, but it couldn't be helped. And of course, Mama and Daddy were there.




So things were beginning to get a little busy in the Roberts' household.

Mama had helped me pack my wedding trousseau, days before. She and my grandmother had given me an ivory lace and pearl gown and pinwah with matching slippers and panties.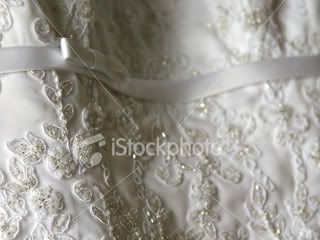 I did my make up and dressed at home before we all headed for the church. We were to be at the church exactly two hours before the service was to begin in order to have pictures. All the plans were finally coming together.




Everything was ready.




What if Minor changed his mind? What if he didn't really want to get married yet? What if I was left at the altar? I've heard of that happening. So I was relieved to get the news that he did show up and was at the church. Whew!




It was to be a candlelight wedding at 6 PM in the evening. All the bridesmaids and groomsmen had arrived and were busy preparing themselves as well as the florist finishing the last minute touches.

The candles were all lit by the groomsmen and the lights were dimmed as the organist played and the soloist sang. When she was finished, the wedding march began and each bridesmaid, escorted by a groomsman, walked down the aisle to their respective place, followed by the flower girl and ring bearer.




I held tight to my Daddy's strong arm. He looked down at me and told me he loved me. He smiled really big and said, "You can still change your mind."

"I know, Daddy. I don't want to change my mind. I love you, Daddy."

He said, "OK, let's go."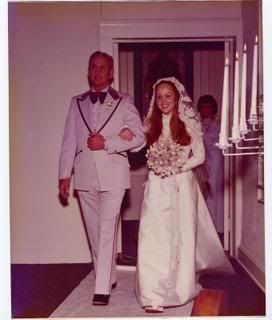 And we walked down the aisle to the altar where Minor was waiting.




*****

We were just kids, back then, with no idea of what was ahead.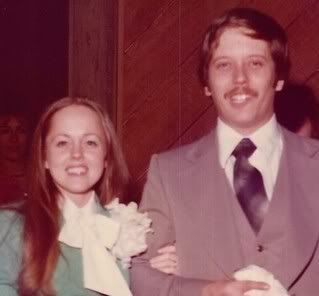 We've been through good times and bad times. We've lived through children, grandchildren, dogs, cats, deaths, car payments, house payments, heart attacks, surgeries, career changes, and weird relatives. Through it all, we have loved each other and have always been totally commited to our relationship. There has never been another option. Whatever came our way, we tackled it together, in sickness, and in health. It has not been an easy road. But nothing good, ever is.

Thirty one years ago today.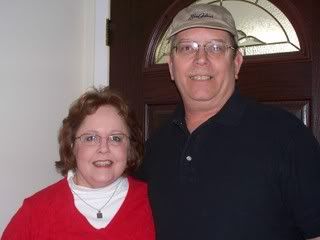 We are true soulmates and we have surely been blessed.