I had a great afternoon riding around the island with Luke, looking for good photo ops. The weather was perfect and I know Luke got some excellent photos. Check his website at
www.lonepine-photography.com
often to see his newest images.



While we were at Christ Church Frederica, I came across a lime tree with limes everywhere! I thought they were pomegranates (not ripe yet), but Luke said they were limes. I picked 2 and brought them home to have with my next Margarita.

While Luke and I were out and about, Kate took Ryan to be fitted for glasses. He is going to look so cute in glasses, I can hardly wait. Besides the fact that Ryan will be able to see better, the glasses should help draw attention away from his drooping eyelid. His glasses should be ready in a week or so, and you know I'll have plenty of pics.

On the way home, Luke and I stopped at KFC for fried chicken while Kate put on the potatoes for some homemade mashed potatoes to go with with the chicken. Minor got home from work right on time and John and Brad came over too, so there was 7 of us for supper. Between John, Brad, and Luke, they had us all in stitches with their humor and wit.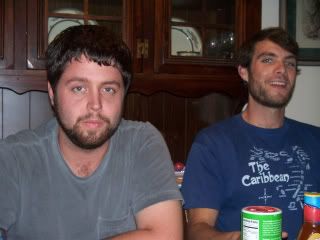 After supper, I reminded Luke that I needed to whoop his ass before he left, so he needed to hold still a minute. I had to whoop up on him with my unbreakable head lock.



And for some reason, I don't think it was painful enough. He is way too relaxed in this picture to be in any kind of pain. All in fun, though.